Hamilton Township, NJ – February 8, 2016 V. J. SCOZZARI & SONS, INC. is proud to announce the completion and opening of Robert Wood Johnson's – RWJ Medical Associates and RWJ University Hospital – Hamilton's new primary and urgent care office at the new RWJ Primary Care Express located at 3100 Quakerbridge Road in Hamilton Township, NJ.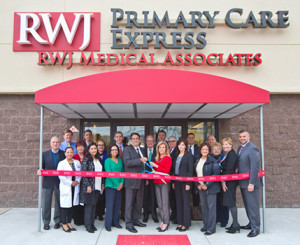 RWJ Primary Care Express is a new walk in service designed to be an alternative to urgent and emergency care settings. The new office will have extended hours on evenings and weekends. Through RWJ Primary Care Express, patients can come in without an appointment and be seen by a primary care provider for unexpected illnesses and minor issues. The new offices also houses the RWJ Express Lab, which can handle both adult and pediatric blood draws on a walk-in basis.
V.J. Scozzari & Sons, Inc. undertook this project on a Design-Build basis which facilitated RWJ Medical Associates and RWJ University Hospital – Hamilton's requirement to deliver the facility as cost effectively as possible while adhering to an expedited time-frame for the opening of the facility. The 14,000 SF facility houses a 12,000 SF Primary Care Express Office with the remaining space used for ancillary and supportive medical services. The work included the complete interior selective demolition of all improvements and systems as well as the removal of portions of the floor slab to accommodate the required plumbing for the intense medical requirements. The Primary Care Express facility includes 17 exam rooms, 8 private doctor offices, a laboratory, consultation spaces, support spaces, as well as a large reception area. The entire facility was designed to maximize the use of the existing space and the efficiency of exam room workflow, as most importantly to enhance the patient-caregiver interaction and to provide healthcare services in a warm welcoming and inviting environment.
The look and feel of the new Primary Care Express Office was of particular importance for the Robert Wood Johnson Health System as this facility was selected to set the standard from which future facilities will be considered.
V.J. Scozzari & Sons, Inc. is a General Contracting, Construction Management, and Design/Build firm that has been meeting the needs of clients for more than three generations. They continue to adhere to the basic business values that have guided them from the very earliest days in business-attention to quality, honest and mutual beneficial client relationships, and a management philosophy that emphasizes treating clients, employees, and partners with respect and fairness.   Since the early 1990's the firm has been a pioneer in the providing cost effective sustainable construction services and delivering high performance buildings. The firm has a staff of United States Green Building Council (USGBC) Leadership in Energy and Environmental Design (LEED®) Accredited Professionals (AP) as well as G|PRO Construction Management professionals, certified by the Urban Green Council, USGBC of New York. For more information about V. J. Scozzari & Sons, Inc. and the construction services they provide visit www.vjscozzariandsons.com
RWJ Medical Associates is now part of RWJ Barnabas Health the most comprehensive health system in the state of New Jersey.  Rooted in excellence, RWJ Baranabas Health advances the health of the region through the state's largest hospital and medical network, capable of reaching five million people. The nonprofit, RWJ Barnabas Health, includes 11 acute-care hospitals with a workforce of 32,000 employees, in addition to 9,000 physicians, and 1,000 residents and interns. To learn more visit www.rwjmedical.com.