Pennington, NJ – May 13, 2016 V. J. SCOZZARI & SONS, INC. is proud to announce that Brienne Alfano, Building Information Modeling (BIM) Manager for the company has become an Autodesk Certified Professional for Revit Architecture.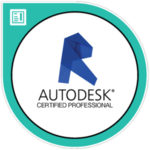 Autodesk's Revit Architecture (http://www.autodesk.com/) is a Building Information Modeling (BIM) software application that allows users to design a building and its components in 3D while including information about the components and systems of the building within the model. Autodesk defines BIM as an intelligent 3D model-based process that equips architecture, engineering, and construction professionals with the insight and tools to more efficiently plan, design, construct, and manage buildings and infrastructure. Certification by Autodesk is a challenging process that demonstrates a commitment to BIM and advanced knowledge of modeling, documentation and elements of Revit Architecture which requires passing an exam that is assessed of the knowledge of the tools, features, and common tasks.
In announcing Brienne's achievement, Vincent J. Scozzari, Jr. Executive Vice President of V. J. Scozzari & Sons, Inc. stated that "In 2014 we began the process of understanding how best to utilize BIM on our company's projects; Brie lead this effort for us. Brie's designation as an Autodesk Certified Professional is a tremendous benefit for all of us at V. J. Scozzari & Sons, Inc., to our clients, architects and engineers as well as the contractors and vendors that we work with, because when used properly, BIM eliminates the separation between clients, designers, and contractors by allowing for true collaboration from a project's inception through to completion and on to the operation and maintenance of a building".