Pennington, NJ – November 17, 2015 V.J. SCOZZARI & SONS, INC. is proud to announce that the employees of the company donated over 190 lbs. of food to the Trenton Area Soup Kitchen (TASK).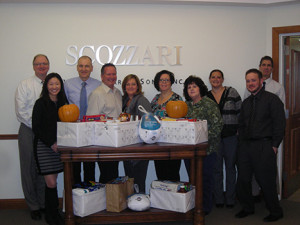 V.J. Scozzari & Sons, Inc. Employees pictured left to right: Wes, Brie, Rich, Karl, Michelle Scozzari, Nancy, Georgette, Karen, Anthony & Don
The employees of V.J. Scozzari & Sons, Inc. donated over 190 lbs. of food to help support TASK for the upcoming holiday season.  The food was collected at the company's Pennington location from employees working in the Company's main office and at project site locations throughout the area. The food was donated to TASK who in turn distributed the food to those in the Trenton Area for Thanksgiving and Holiday meals.
TASK is an independent, non-profit organization incorporated in 1982 and is dedicated to respond to the needs of hungry people in the Trenton Community by providing meals to all those who are hungry; providing services to enable them to achieve self-sufficiency; and informing the wider community of the needs of the hungry and advocating for resources to meet those needs. To learn more about TASK visit their website.
V.J. Scozzari & Sons, Inc. is a General Contracting, Construction Management, and Design/Build firm that has been meeting the needs of clients for more than three generations. They continue to adhere to the basic business values that have guided them from the very earliest days in business-attention to quality, honest and mutual beneficial client relationships, and a management philosophy that emphasizes treating clients, employees, and partners with respect and fairness.   Since the early 1990's the firm has been a pioneer in the providing cost effective sustainable construction services and high performance buildings. The firm has a staff of United States Green Building Council (USGBC) Leadership in Energy and Environmental Design (LEED®) Accredited Professionals (AP) as well as G|PRO Construction Management professionals, certified by the Urban Green Council, USGBC of New York. For more information about V. J. Scozzari & Sons, Inc. and the construction services they provide visit www.vjscozzariandsons.com